I've added something very important to the footer on my website recently. See that down there? That beautiful little rainbow set of rings?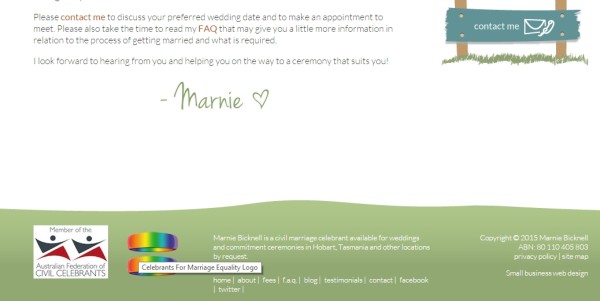 It's a very important logo that was recently created by fellow celebrants, Judy Aulich and Charles Foley, for celebrants to display proudly on their websites if they support marriage equality and respect and treat same sex couples and their relationships the same as opposite sex couples. You can read more about why it was created here.
I am extremely proud and happy to display this logo on my website. We are all human beings and nobody should be made to feel like a second class citizen because of who they love. There has been a lot in the media lately about marriage equality and equal rights for everyone in this country. I thoroughly enjoyed the rally for marriage equality in Hobart on the 8th of August and it was wonderful being surrounded by like minded people. It gave a real sense of hope that change is coming.
Marriage Equality will happen in this country and I can't wait!